SHARMI BASU is a multi-media performance artist, curator, and composer. She creates work that addresses vulnerability, accountability, and experiences of millenial diaspora through creating narratives of decolonial thinking toward individual and collective liberation. Her performances and sound pieces show us that the abstract and immaterial experiences of trauma and pain can be liberated through our abstract creations in art and sound. She believes that transcending the emotional landscape is the key to accessing the multidimensionality, and works with these ideas in her Decolonizing Sound workshops and her improvisation group, the Mara Performance Collective. She hosts a number of workshops that center on sound healing and self-accountability, as well as technical skill-shares. She is also a certified mediator focused on interpersonal healing within Queer and Trans BIPOC communities.
Her ultimate goal through her work is to cultivate a sense of vulnerability and empowerment for herself and her community.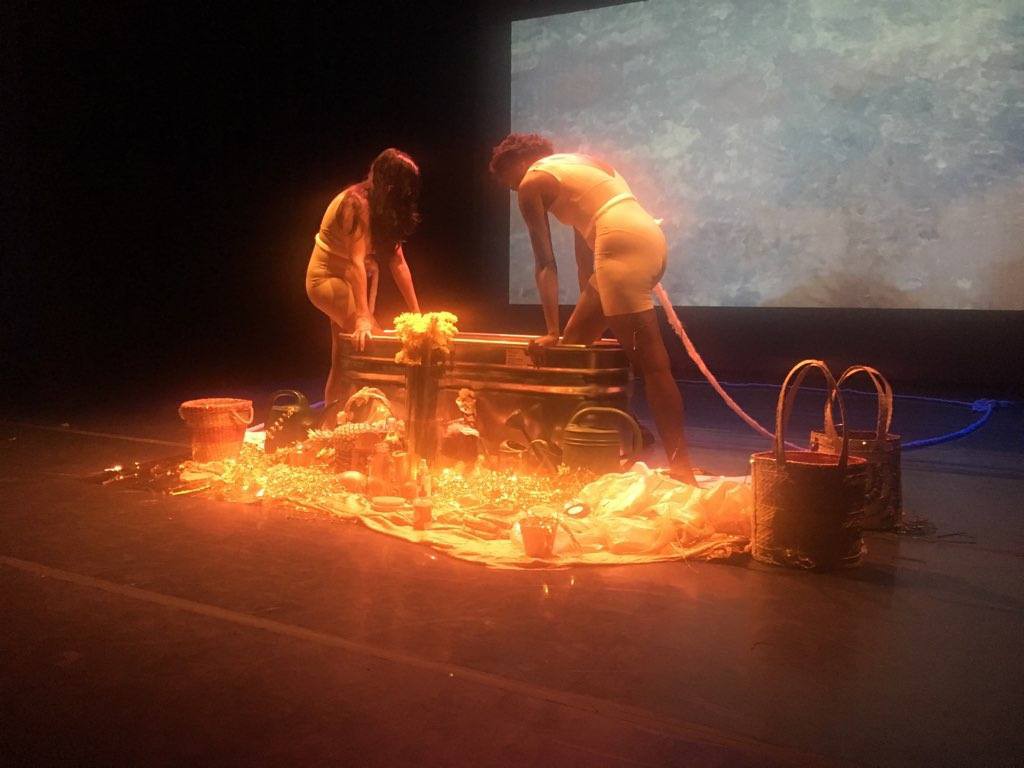 Titania Kumeh and Sharmi Basu
For Unearthed Art Show at CounterPulse SF on Feb 2nd, 2019
"Pupa" is a performance of diasporic journies. It is the performance of our mothers' migration and birthing stories. WIthin this meditation, artists Sharmi Basu and Titania Kumeh are going back in time in an effort to heal cellular trauma embedded in their bodies and in the bodies of their matriarchs.
AFFIRMATIVE ACTION was curated by Zachary James Watkins Performed by the Living Earth Show Composers: Morgan Brown, Ava Mendoza, Raven Chacon, Sharmi Basu, Zachary James Watkins At Pro Arts in Oakland, March 2018
LIVE @ ELI'S MILE HIGH CLUB
Dancers: Dezi Soley as The Healer And Leland Bronson as the Ancient Being with Alexander Brown as the young warrior.

Musician: Sharmi Basu

Storyteller/ Truth sayer: Amber Mczeal